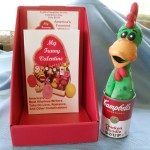 It can also be found in my closet, right next to my silk camisole and pink flamingo flannel jammies. No, I'm not talking about my shoebox full of sex toys—ribbed for her pleasure. I'm referring to a Valentine's Day gift that isn't the same old socket wrench set that you gave him/her last year.
My Funny Valentine is a collection of twisted stories, bad advice, triumphs, and hideous failures, all having to do with the most convoluted of human emotions: love. The contributors are humor award winners, stand-up comics, columnists, and ne'er-do-wells; all students of human nature. I'd like to share a few choice clips:
Valentine's Day in Iran, by John Boston:
Roses are red,
The Ayatollah is great,
Have fun at the prom,
With a goat as your date.
A comedy of Eros, by Barry Parham:
Roman women actually welcomed these advances, because it was believed that getting smacked with pieces of a dead goat would somehow make them more fertile, a characteristic referred to by many anthropologists as "rock stupid."
Report Card, by Barb Best:
Gold star: I want to commend you for admiring the gift of fine jewelry that I went ahead and purchased for myself with your Platinum Visa card.
If you want to get an unusual gift for your honey (and help me clean my closet), you can go to the bookstore page of this website and purchase a copy for your very own at half the normal price. Order now so you can get a bit of rubber chicken soup in time to surprise that special someone on Valentine's Day. It's less fattening than chocolate, lasts longer than flowers, and won't land you in the doghouse like that socket wrench set did.